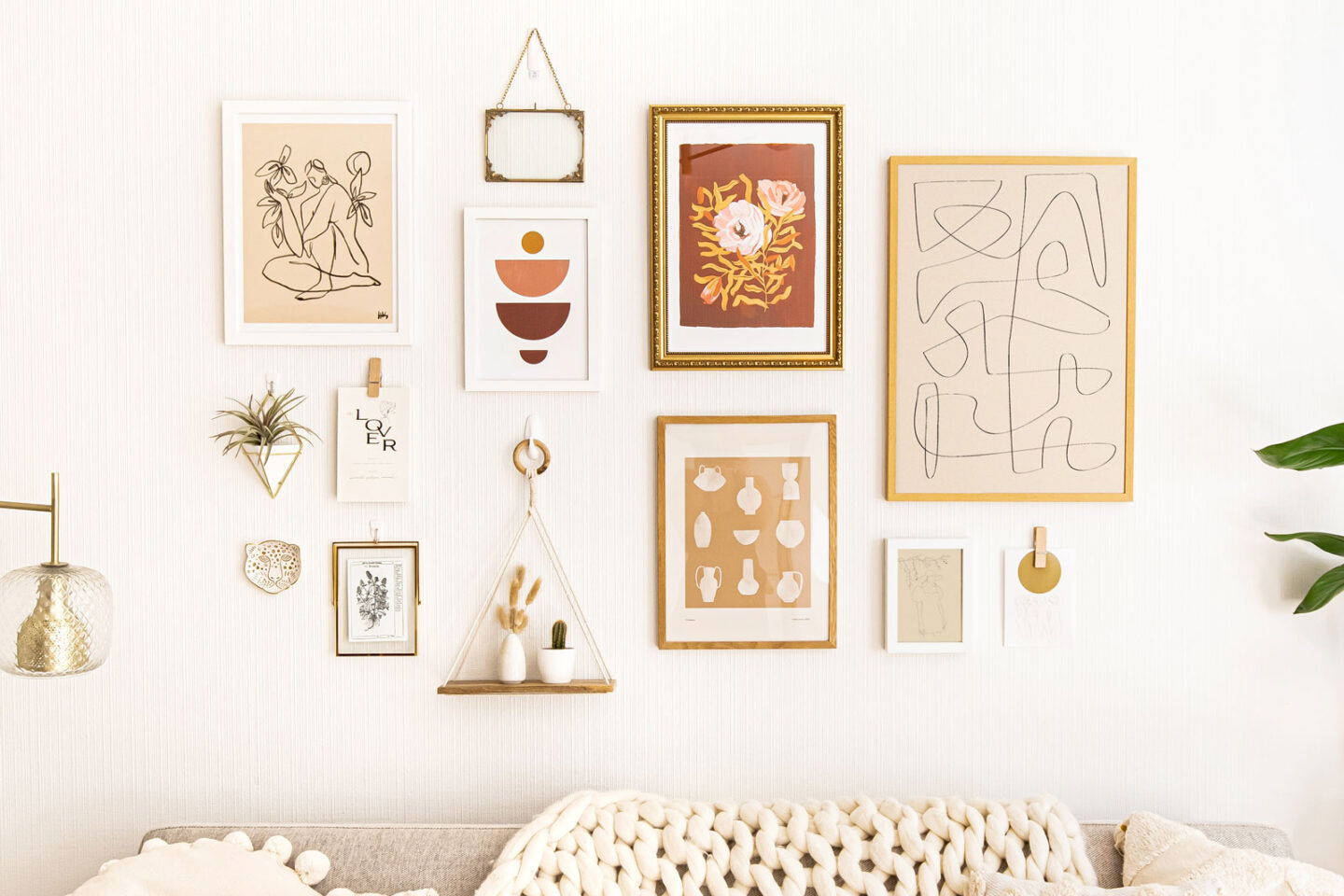 — This article contains paid content, all words and opinions are my own — 
One of my favourite things to do when visiting a new city for the first time is to lose myself in exploring as many art galleries as I can set foot in. Modern art galleries quite literally paint a picture of the local culture and help you gain a deeper understanding of a city when travelling.
However, with international travel off the table in 2020 and most UK art galleries still closed, I've been busy curating artworks from my favourite artists and have made the perfect gallery wall right in my very own living room. Sure, it's no Louvre, though at least I'll never have to queue or pay admission to view these masterpieces. 
I was asked by Marsh & Parsons, the multi-award-winning London estate agency, to share my gallery wall tips as part of their 'Holidaying from Home' campaign. With all this extra time inside, now is the perfect time to create your own travel experience within your four walls. Read on to learn more about my DIY tricks on how you can create your very own gallery wall.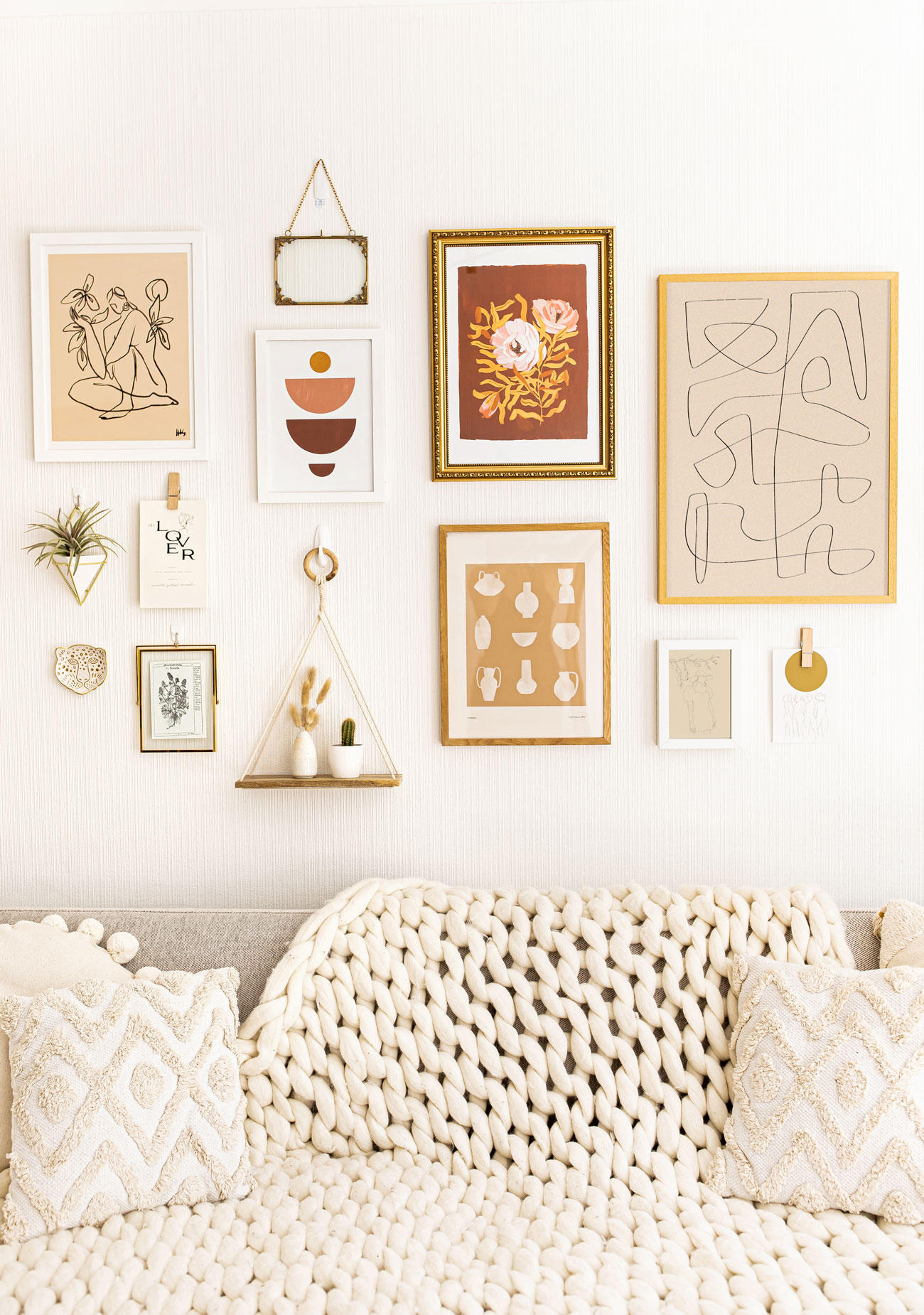 How to Create the Perfect Gallery Wall In Your Home
Pin it & plan it! 
Before adding anything to cart, put away your credit card and dedicate some time to soak up lots of inspiration. Stalk your favourite interior accounts on Instagram and get pinning on Pinterest (check out my gallery wall inspiration mood board here). Then get offline and measure up your wall / blank canvas so you know exactly how much space you have to work with. Take some pen to paper and roughly plan out the position of your artworks before you get drilling to avoid making an unnecessary amount of holes in your wall. Or if you're a renter like me, you'll find a bit more freedom when using Command strips to hang your artwork.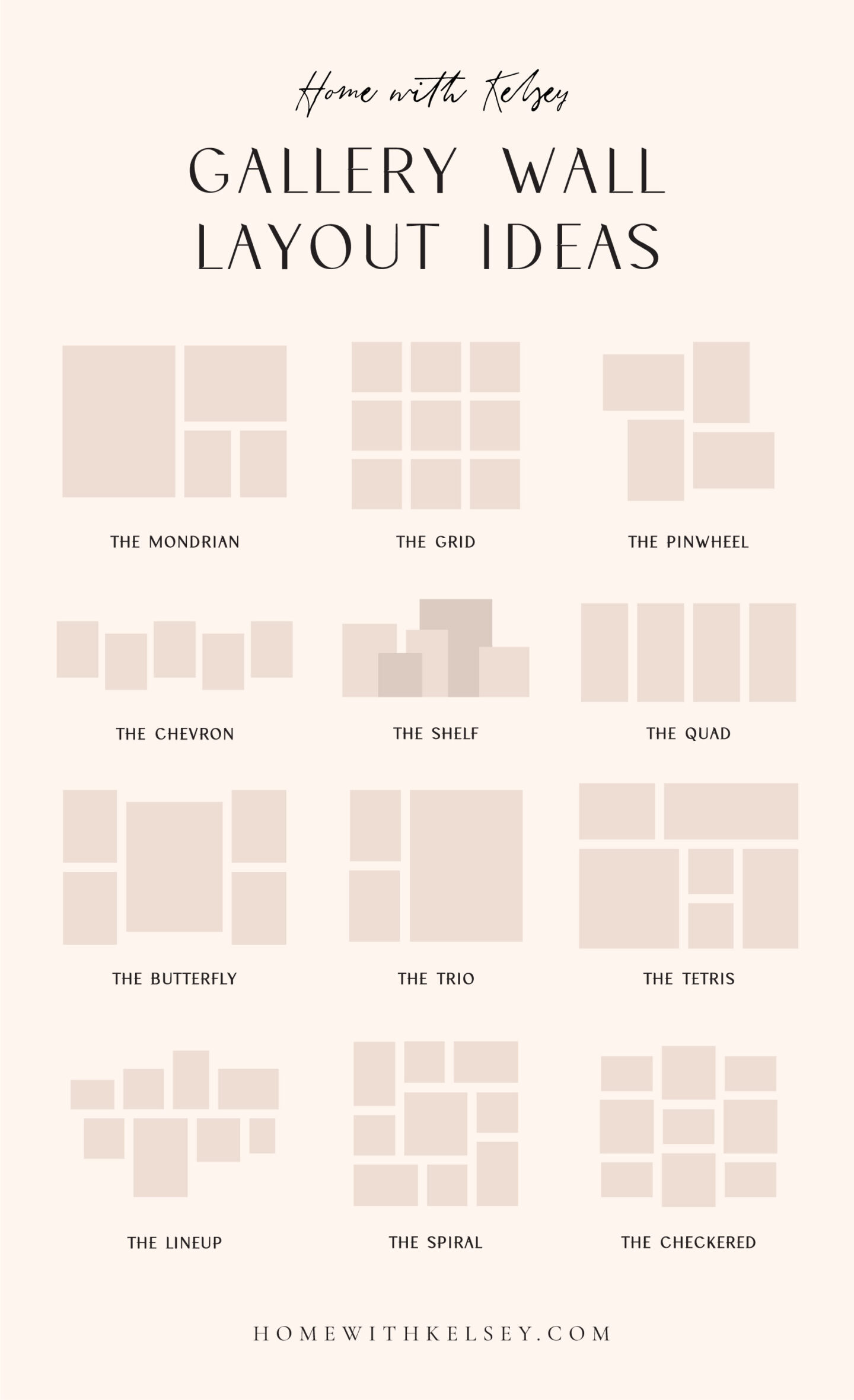 Choose a colour palette
Defining a colour palette theme for your gallery wall will help you achieve a consistent and coveted look with minimal effort. I find it's best to choose colours that either match your interior style or personality (or both!). I went for a mostly neutral colour theme to match my boho / rattan decor and my cream West Elm Sofa. 
You might decide on a botanical theme and utilise a spectrum of forest greens and striking emeralds. Or if you're a beach babe, go for cool blues and sand-coloured swatches. Your colour palette shouldn't be limiting but rather it will help assist you in choosing art prints that are guaranteed to look cohesive next to each other, meaning you can have complete freedom when it comes to their positions and layout. 
no products
Go Bold
Don't forget to have fun and add an element of surprise to your gallery wall. Go out of your comfort zone and pick a statement print that you wouldn't normally choose. I'm admittedly always playing it safe when it comes to my minimal beige colour palette which is why I choose to feature this bold and bright print from Annie Dornan Smith.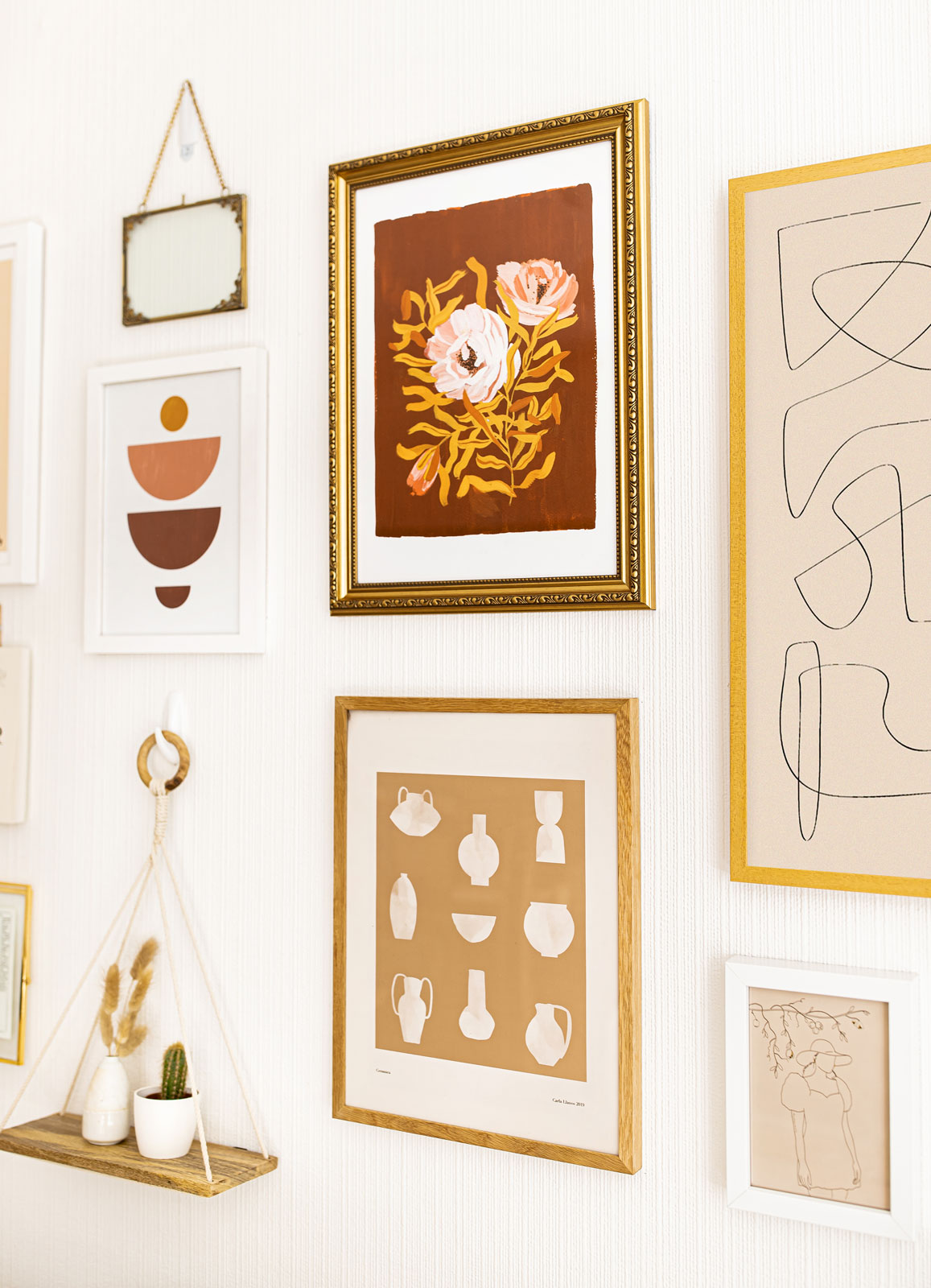 Get creative with your framing
Experiment with how you frame your favourite art prints. You don't need to stick to picture frames, which are often very expensive when you need to get them custom made. Instead try using random household objects like clipboards, washi tape, bulldog clips, trouser hangers and or even some wooden pegs to hang your artwork. Chances are you already own most of these things so dig deep in your random draw (well all have one!) or at the back of your pantry and get creative. 
— Note: For the wooden pegs below, I attached these to the wall using a removable sticky Command Strip —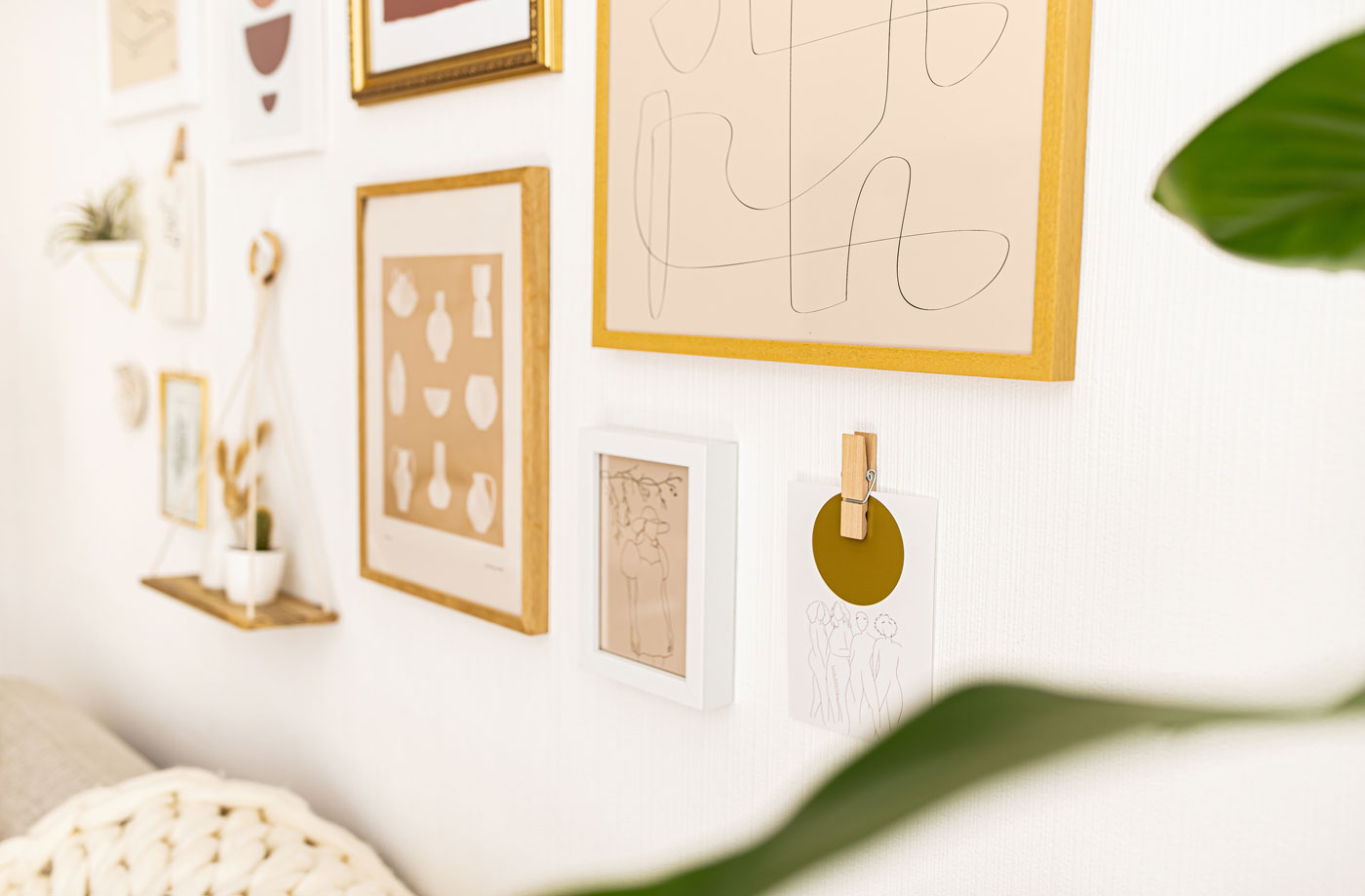 no products
Mix up your materials
Try using a range of different materials to add more interest to your gallery wall. I've used a mix of minimal white frames, oak wood and antique gold frames with decorative baroque detailing. However, if you're after a more sleek polished look, select identical-looking frames and let the prints do the talking.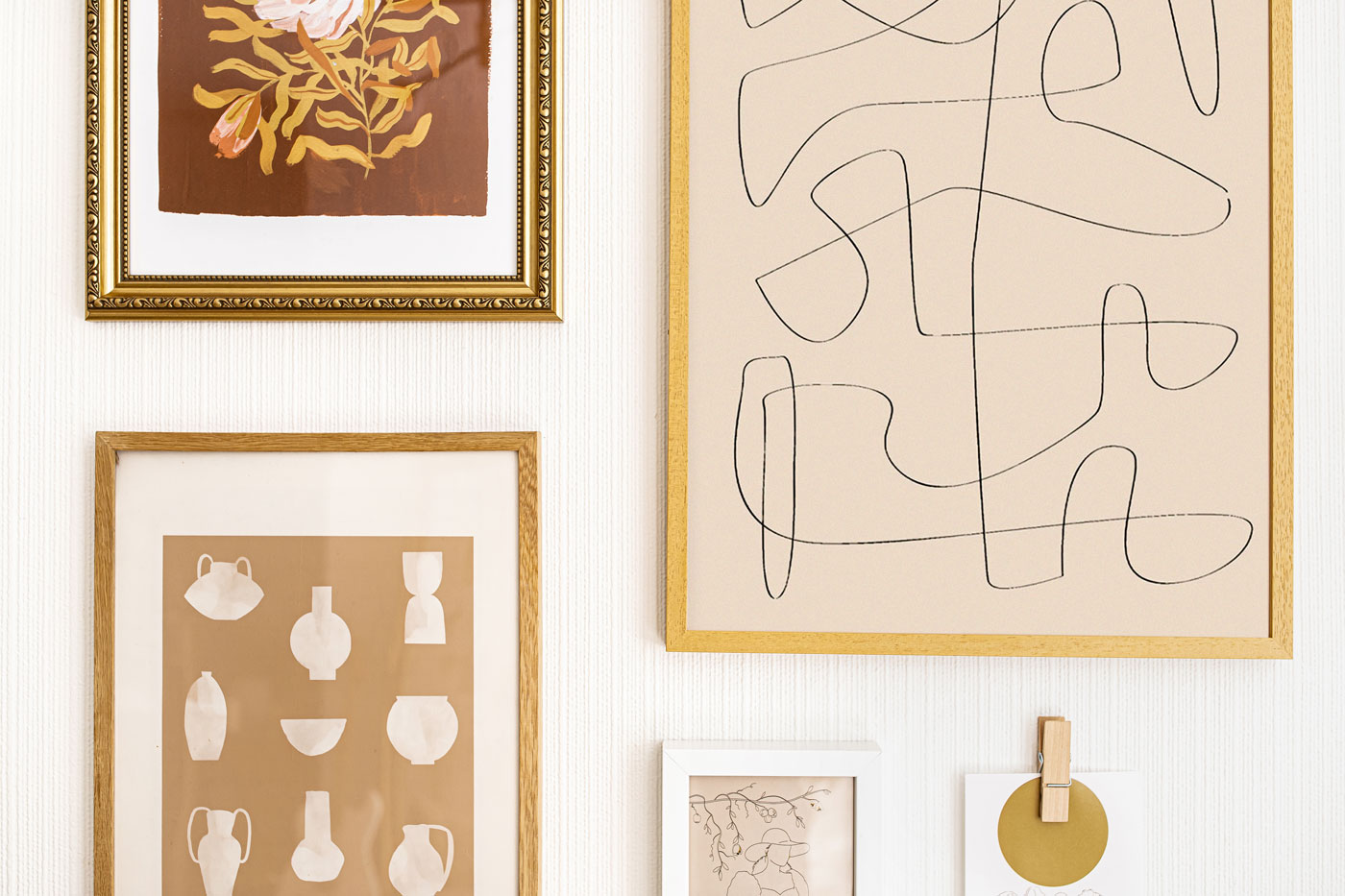 Think outside the box
When it comes to your gallery wall, each artwork should be a reflection of what you love but that doesn't mean every piece has to be a flat print per se. You'll notice in my gallery wall that I've used a bunch of items that aren't' necessarily considered 'art', however, since I consider them to be beautiful I've hung them up regardless. On display, I've included a notebook, a table mat, a small glass box filled with crystals and even some live plants. You could use old postcards, Vinyl Record covers or magazine covers.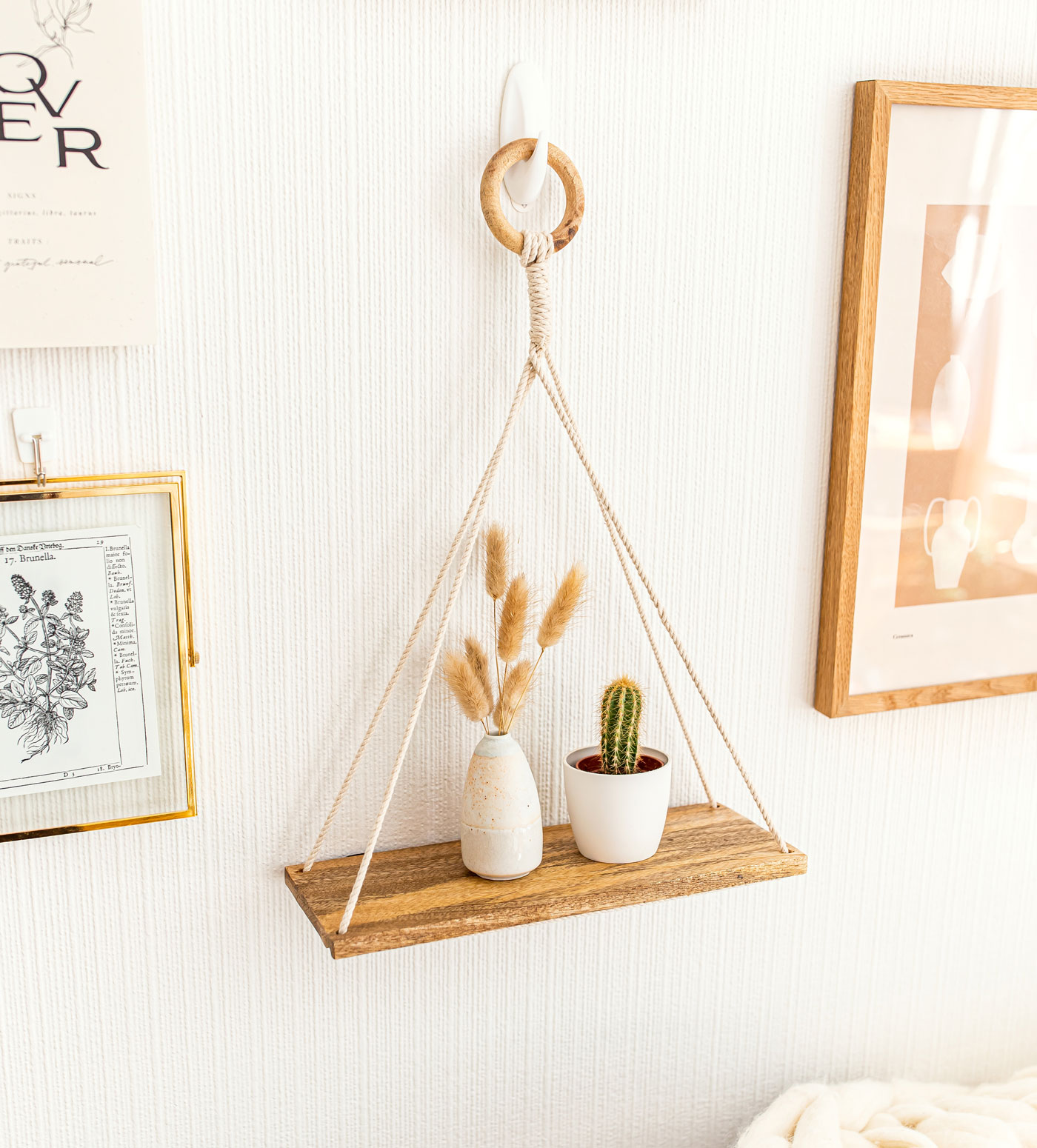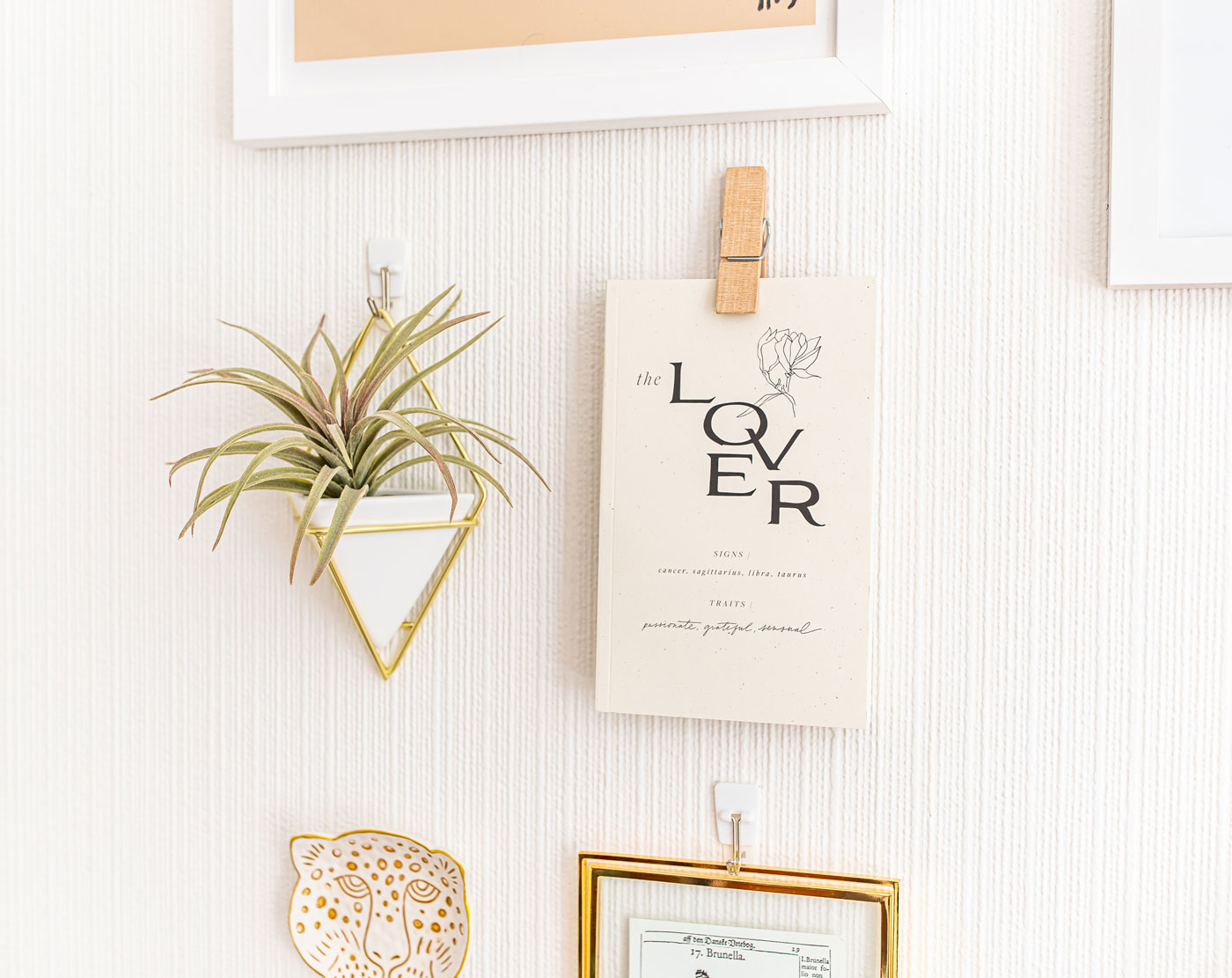 no products
Support local artists
I love that websites like Desenio and Society6 exist so you can buy prints cheaply en masse (which is great for filler pieces for your gallery wall) however you'll often found that you end up with the same knock-off print that everyone else has. Buying from local artists means you're more likely to end up with a unique art piece and it doesn't have to be incredibly expensive either as most artists sell affordable prints of their works along with their originals. Some of my favourite UK artists are Kit Agar, Line & Honey, James Wilson, Carla Llanos and Annie Dornan Smith.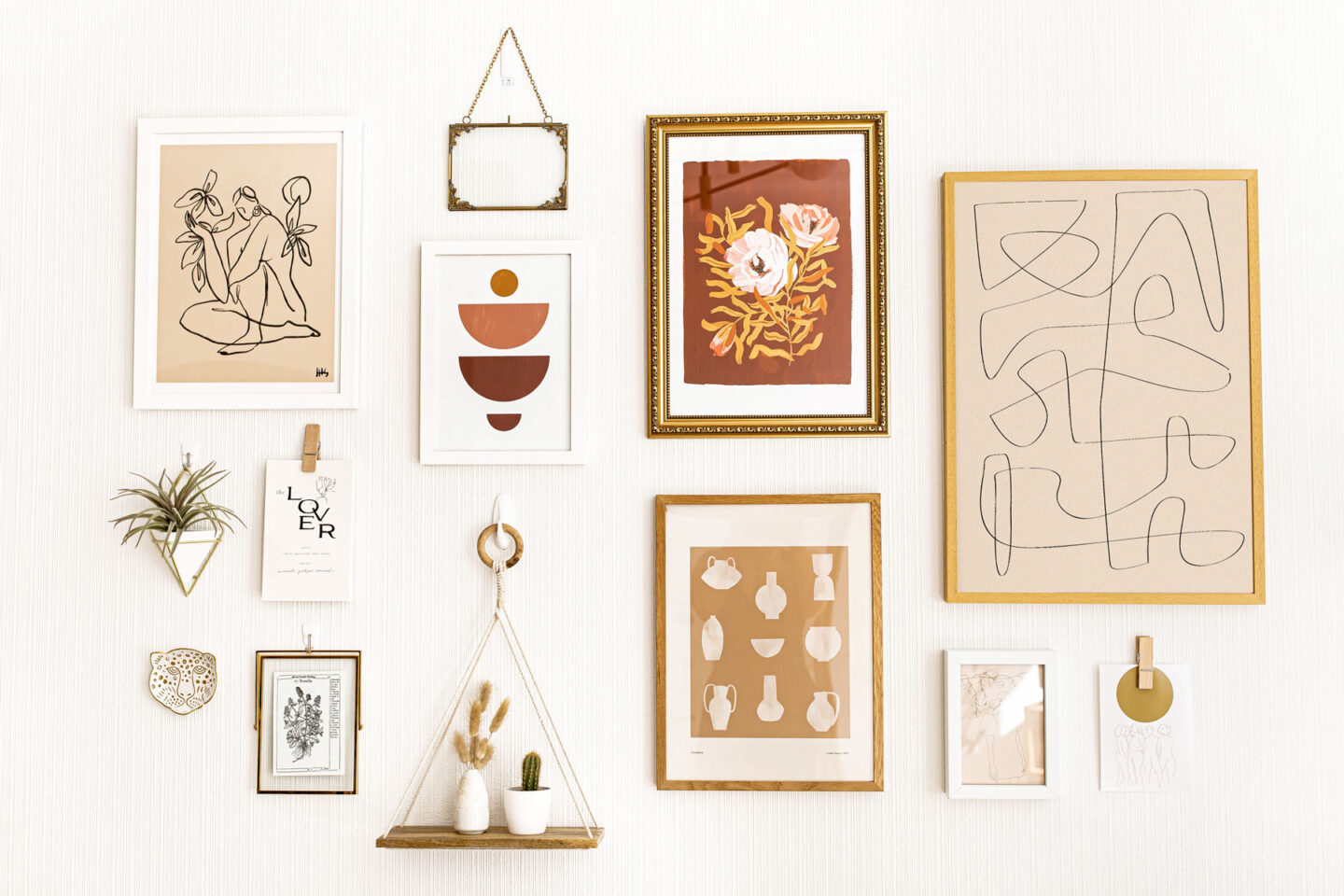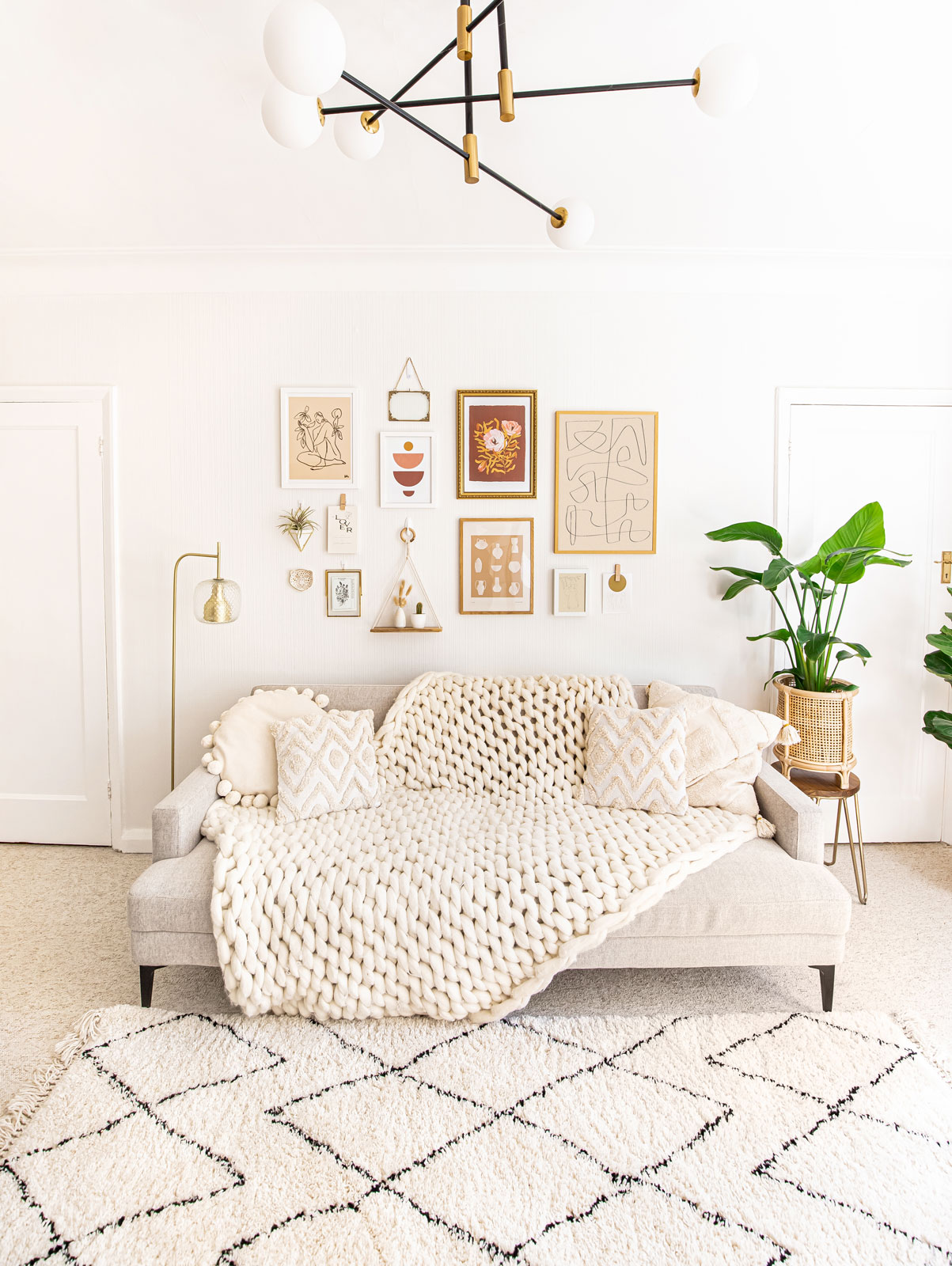 Related:
Enjoyed this article? Find more interior styling tips here. 
Interested in creating an Photo Gallery Wall in your home, click here for my top tips. 
Loved this post? Save these pins to your Pinterest