As buds start to appear on trees, fewer layers are worn and I make the annual switch to iced lattes, I realise Spring is coming and it's not only time for a wardrobe refresh but a bedroom update too. Here are some simple bedroom decor ideas for a stylish spring update.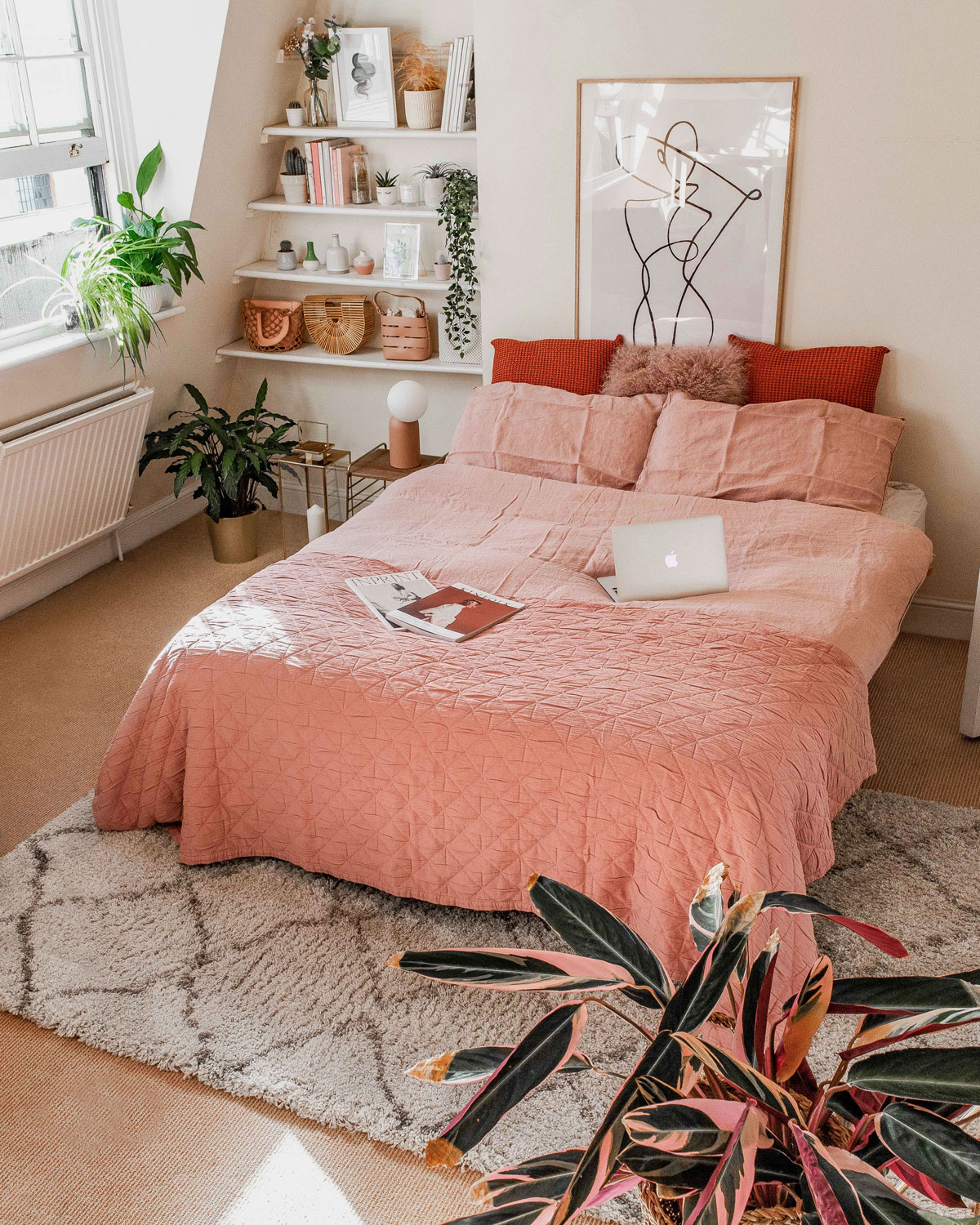 SHOP BEDROOM DECOR
no products
1. Switch your bedding
With warmer weather brings a much-needed bedding changeover. I always opt for linen sheets and pillowcases in Spring to allow for more airflow. Sure they might look wrinkly, but if you've never slept within a linen cloud have you really slept at all? Besides, if you were married to George Clooney would you complain about his wrinkles? Of course you wouldn't! This Dusty Pink Linen Bed Set from MADE is eco-friendly and 100% natural. It regulates your body temperature while you sleep to ensure you'll be cozy AF on those cooler Spring nights.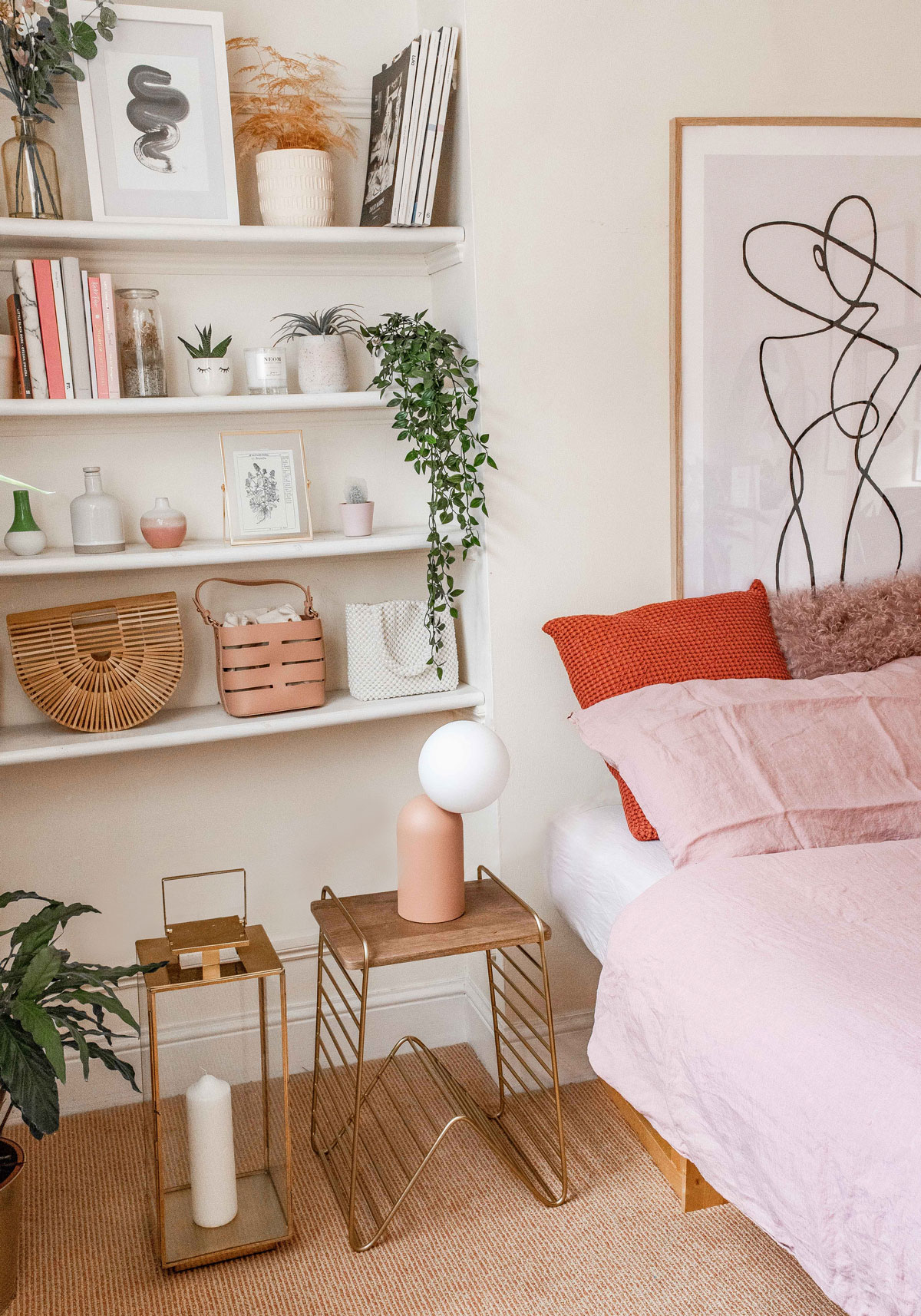 2. Refresh with greenery
I'm always a fan of hosting a plant party in every room. There's something about having living things in your living areas that literally breathe life into your space. Okay, I gotta admit — see that hanging plant up on the shelves? She's totally fake and I got her from IKEA. At least that's one more plant I don't have to worry about killing (RIP Mr. Fig Leaf 2011-2012). The others were purchased from Columbia Road Flower Market for el cheapo. Look up what local markets are near you and head there just before closing time to snap up some last minute green bargains.
3. Keep it kinda cozy
Sometimes Mother Nature will decide to be an ice-cold-bitch mid-Spring and hit us with a spout of lower temps. If you keep an extra bedspread as part of your bedding decor, not only will it look fab but at least you will be ready for when the thermometer drops. I love layering this MADE Stonewashed bedspread for extra texture and warmth.
4. Update your colour palette
For Spring I've curated a warm yet bright colour scheme for my bedroom. If you're familiar with my Instagram feed you know this basic lass loves a dusty pink swatch. This season I've paired it with vibrant terracotta cushions to add some depth to the theme. When Winter comes round again I can pair these with a deep navy or emerald green bedding.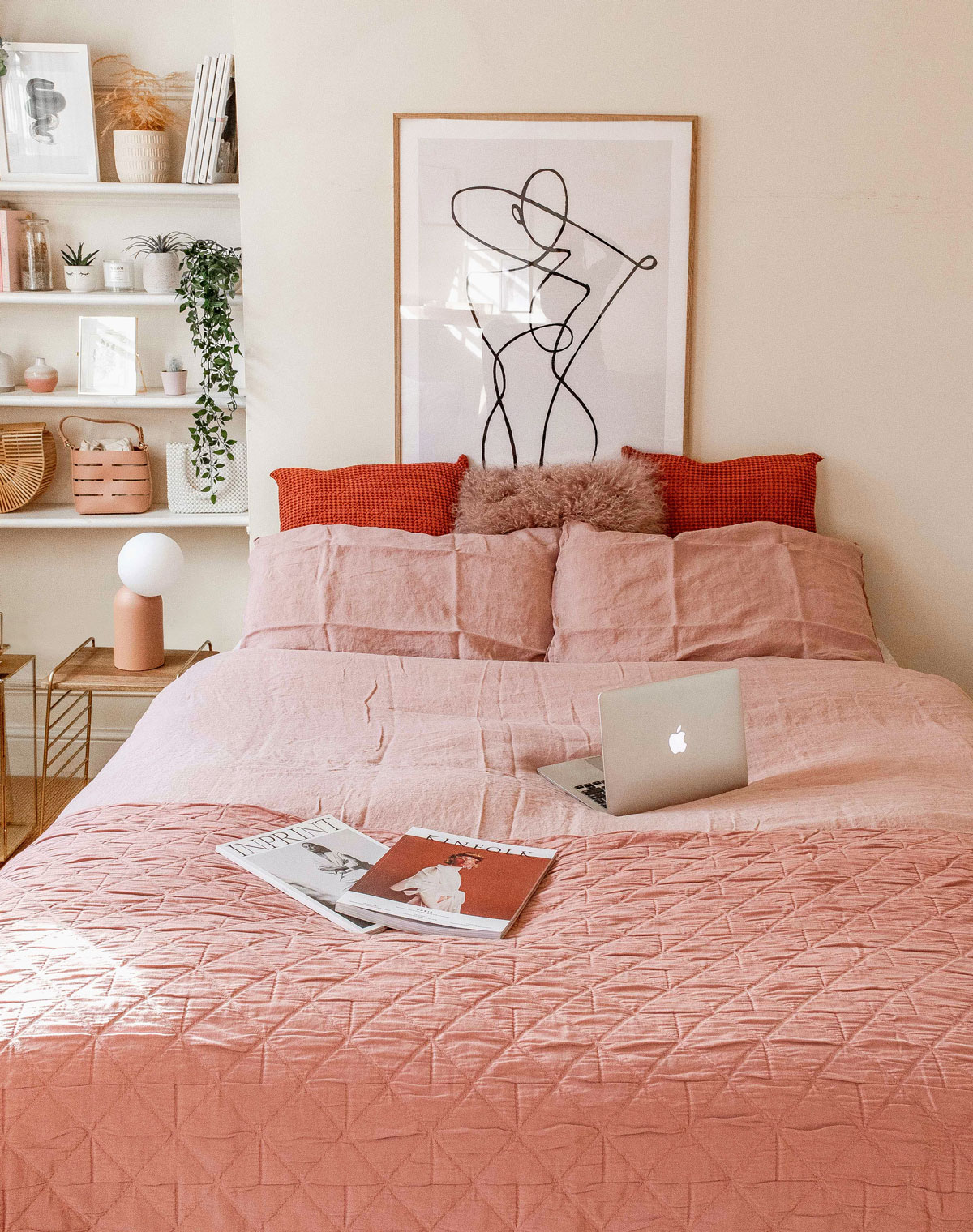 5. New season, new prints
Come March, I'll usually look at updating the artwork in my frames. Now before you start thinking that this is a frivolous idea – when you can buy poster artwork from just £9.95 online at Desenio it's definitely not outrageous or expensive to update your prints. Stick to artwork with a bright neutral theme and keep your heavier prints for darker months. I love this feature abstract piece which effortlessly adds elegance to any room, you can find the link here.