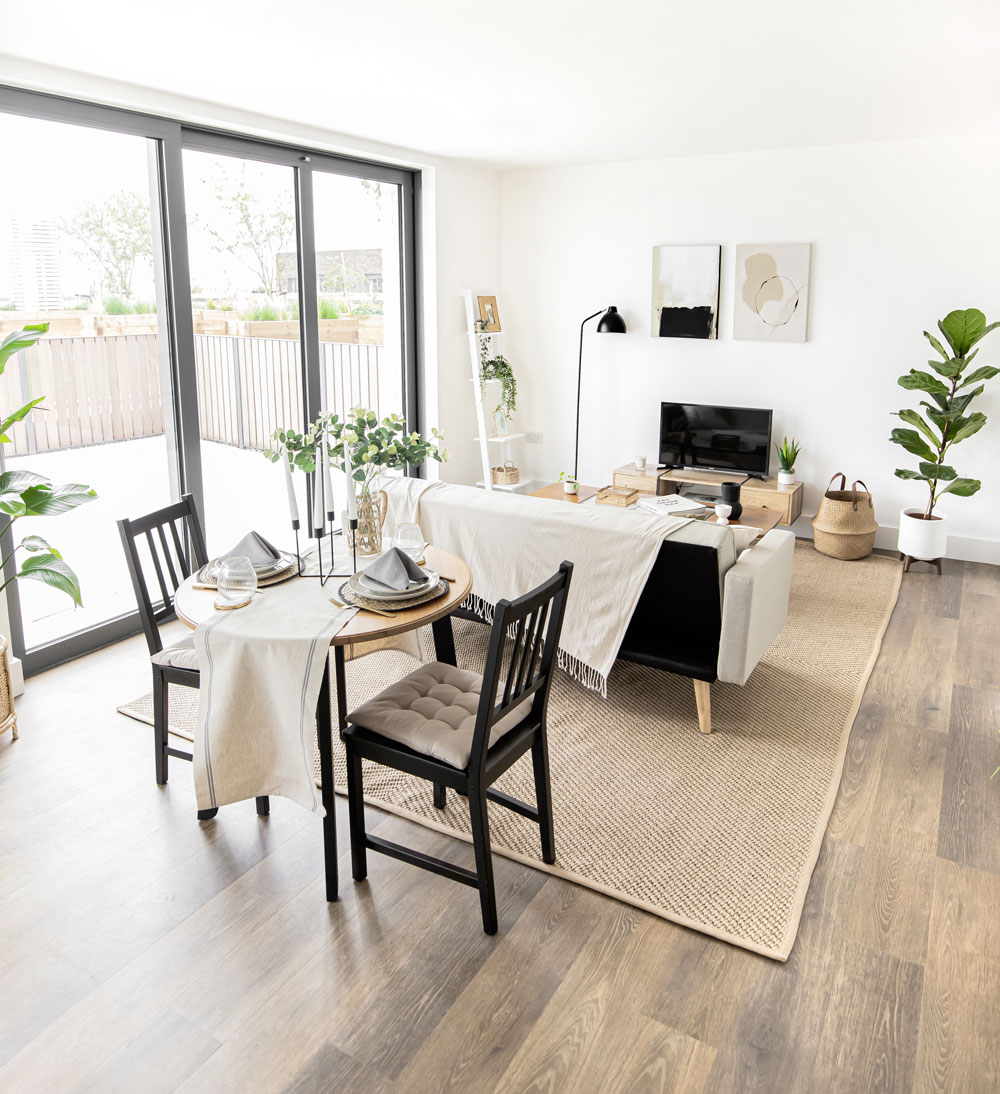 — AD: This article contains sponsored content, all words & opinions are mine —


So you've bought your first home, after saving for years and forking out for stamp duty, legal fees and the deposit it's now time to pop the champagne! However, it's not all that glamourous, is it? More often than not, when you move into your new place there isn't much money left over in the pot which you can dedicate to decorating. Often first time buyers will go months on end using camping chairs, picnic tables, crusty cabinets and hand me downs (like Aunt Liz's serially stained sofa) until they can eventually afford to upgrade. However, the good news is that you can still have the dream of your homes and fab furnishings on move-in day without breaking the bank – with a little interior innovation and guidance from me (your budget-friendly babe), that is!

This year I am working with Shared Ownership Week who have challenged me to style an entire living & dining area on a total budget of £500 – yep £500 for furniture AND decor. I styled this beautiful Shared Ownership showroom to show how you can transform an empty space into a cozy & chic environment while keeping to a budget. In this post, I'll be sharing all my knowledge on how to find affordable furniture, where to source beautiful decor on the cheap and my top DIY hacks that will help you create a Pinterest-worthy room.

Shared Ownership gives first-time buyers the opportunity to get on the property ladder a lot sooner than you'd expect by providing an affordable way to buy their first home. If you want to learn more about whether this part-buy part-rent scheme is the right fit for you, make sure to get involved with Shared Ownership Week. There are plenty of free educational webinars, resources, giveaways and guides that will help you on your homeownership journey. Speaking of giveaways, I'm giving the entire contents of this living room makeover so keep reading for details on how to win.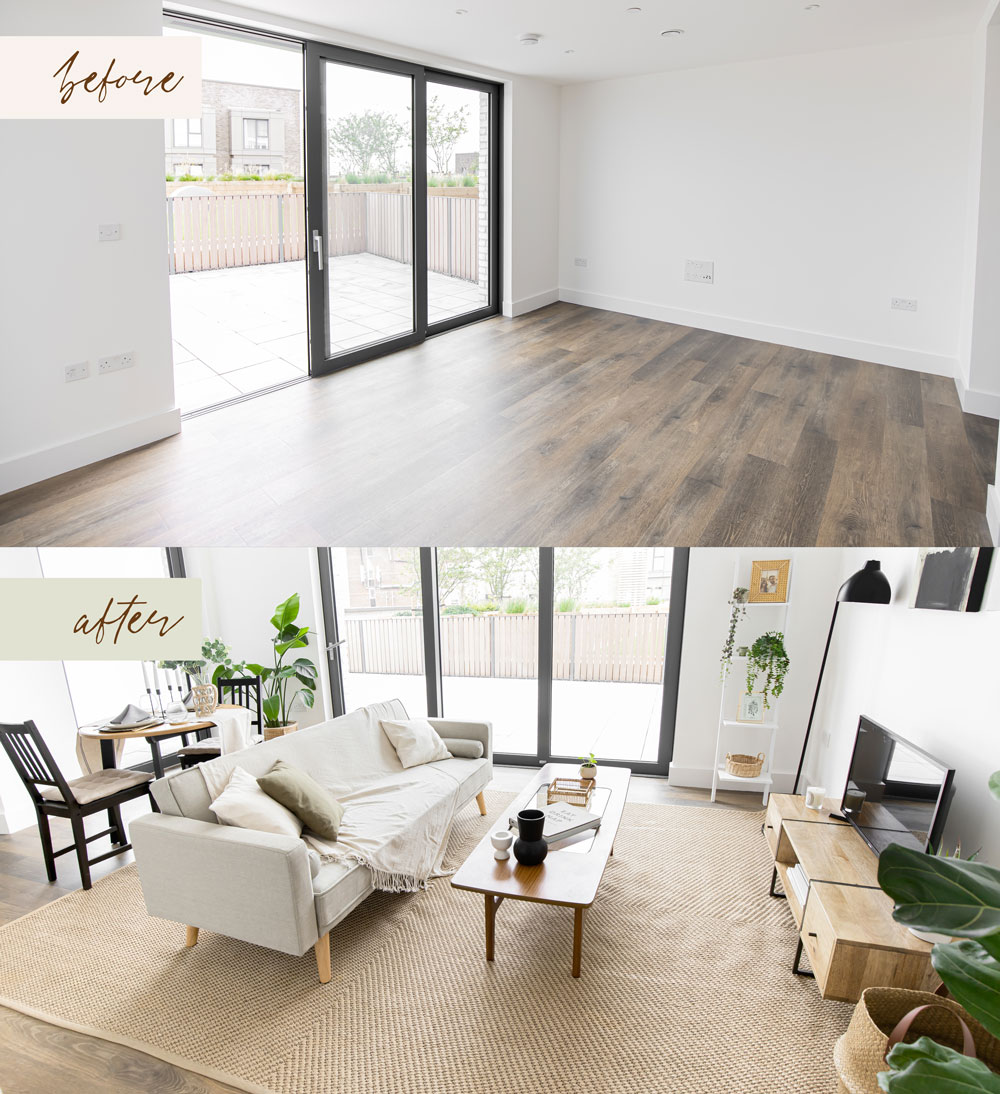 My Top Tips For Decorating On A Budget
 Antique adds character and a profit! 

It goes without saying that if you buy second hand you're bound to save money, but what about actually making a profit on an antique piece of furniture? If antique furniture is looked after properly, most antiques appreciate in value and often you can even make your money back on an item. For example, two years ago I bought a 1960s Danish leather sofa for £1000 which was on the pricier side however only a year later I sold it for £1500 and made a profit.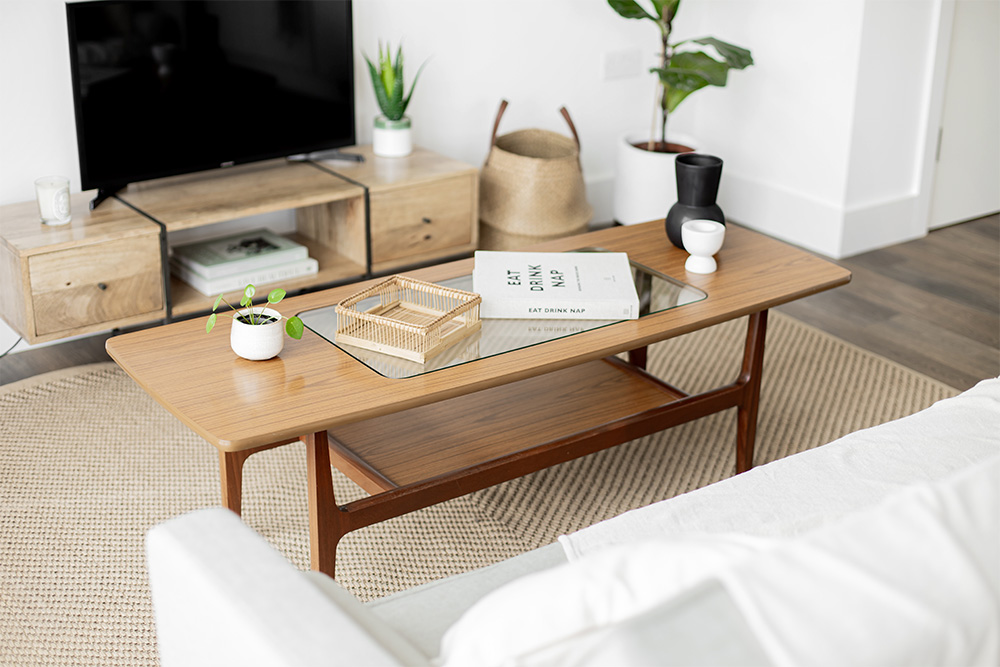 Now just imagine how buzzing I was when I came across this mid-century G-plan coffee table on Facebook Marketplace for only £30! I was searching for teak furniture and spotted this listing which was only posted a few hours earlier, so I messaged the seller without hesitation. A quick search on eBay and Etsy for G-plan coffee tables, I found the exact same model that was selling for over £300. Antique furniture will add a lot of character to your home and is always a great talking piece for when guests come over. Tip: you can set up a notification alert on Facebook Marketplace for key words, such as "mid-century" so that way you'll be notified as soon as a new listing goes live, as when it comes to bargains time really is of the essence.
 Save big on IKEA & brand names 
Unlike antique furniture, modern furniture from IKEA almost instantly devalues as soon as you've checked out and finished eating your 50p hot dog. That's why I recommend never paying full price on IKEA if you're decorating on a budget. If you live in a transient city such as London, people are always moving in and out of homes which makes it very easy to find IKEA items for less than half of the retail price on Facebook Marketplace. When searching for a dining table & chairs, I found this IKEA GAMLARED / STEFAN Dining Set which retails for £129. It was only 4 months old, so it was practically brand new and in perfect condition and I managed to get it for £40.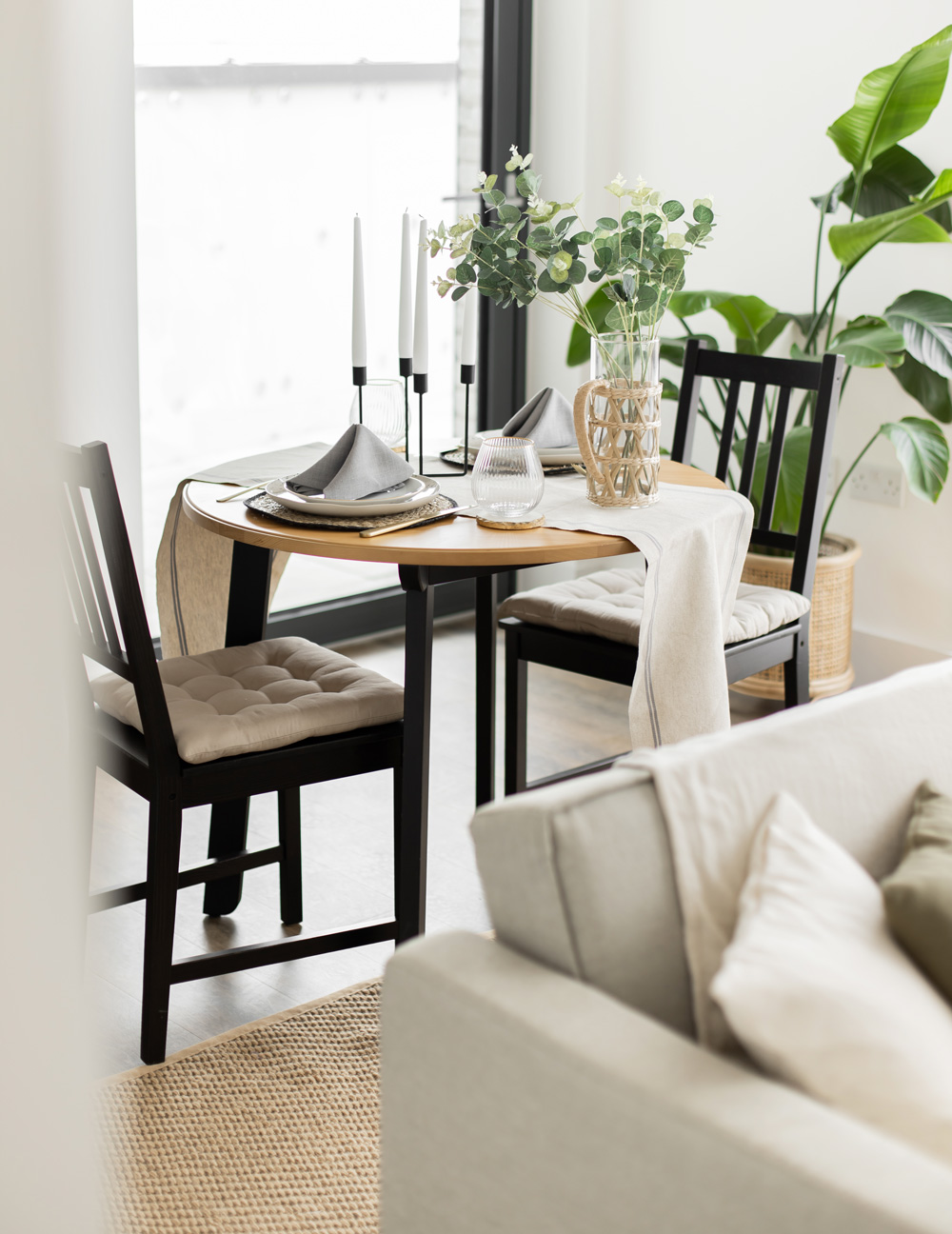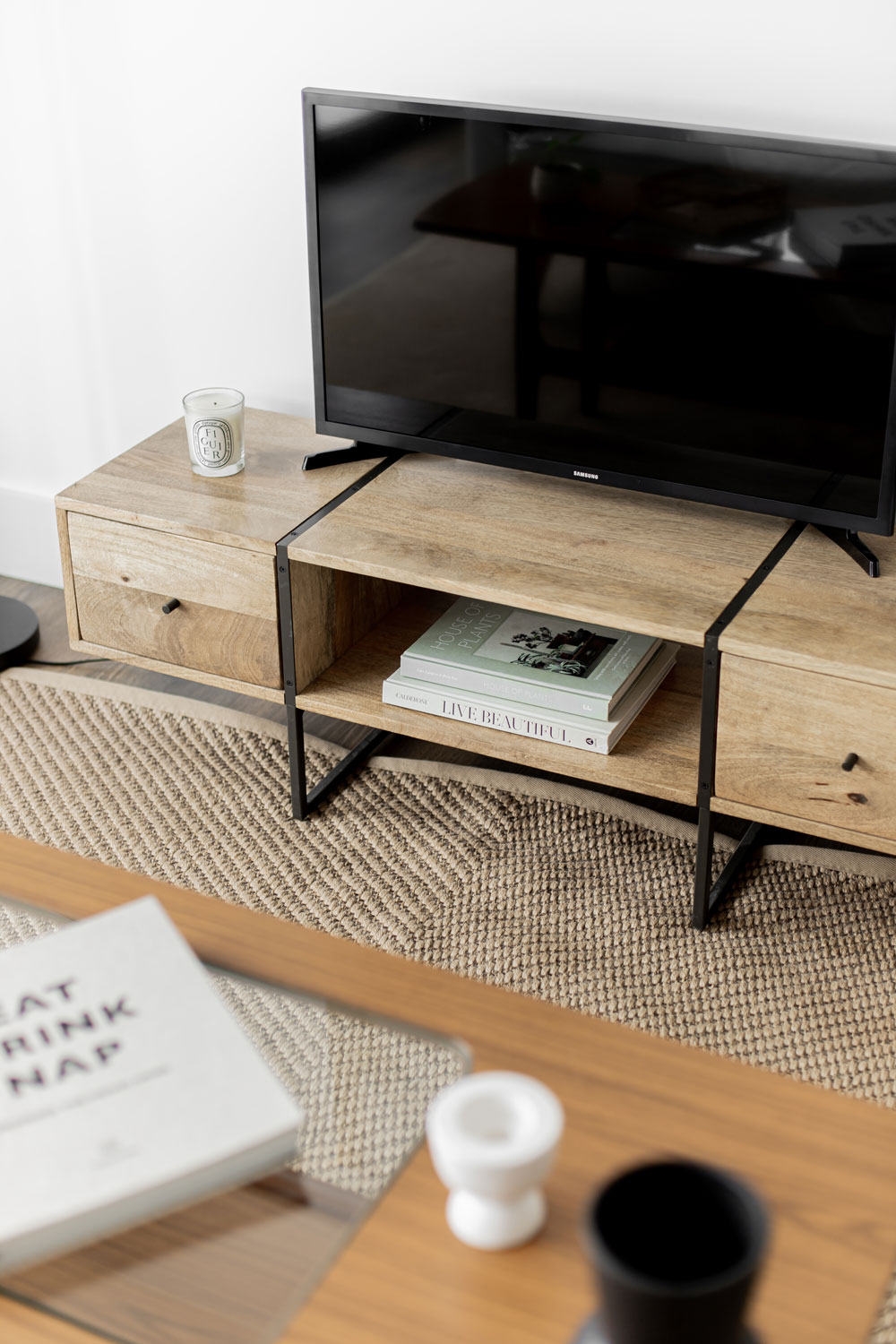 The same principle goes with saving on designer furniture, try searching on Facebook Marketplace and eBay for brand names such as MADE, Dwell, Loaf, Swoon and Heal's – I did just that and managed to score this stylish Swoon TV unit for £50 which originally retailed for £329 and it's in amazing condition. I also picked up a massive 2.5m x 3.5m woven rug for £50 (originally £300 from IKEA). Don't be afraid to haggle on Facebook Marketplace especially if the item you're interested in has been listed for over two weeks, as usually by that point the seller is willing to accept a reasonable offer below their asking price as they just want the item gone.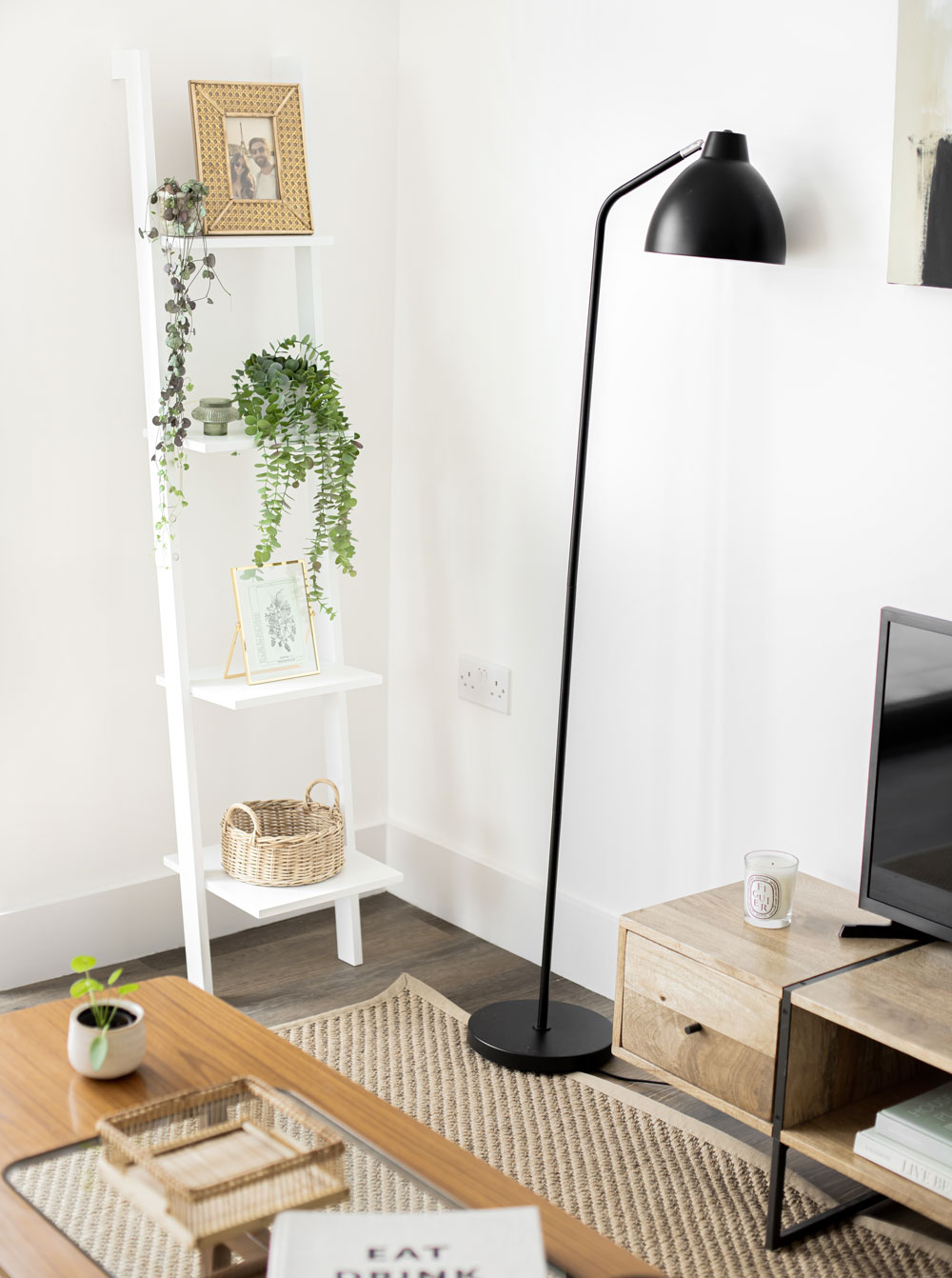 Brand new does not equal expensive if you know where to shop 
I appreciate that not everyone has the time to scour secondhand listings and drive miles to pick up furniture however it's definitely possible to buy brand new furniture and get it delivered to your doorstep while sticking to a budget. There are a few pieces I bought new for this living area makeover including this £20 stylish matte black lamp from Habitat, a £29.99 bookcase I ordered from eBay with free shipping and this modern scandi-style sofa I got for £175.99 from Amazon which arrived two days after I ordered it. I did try searching for a secondhand sofa but I found more often than not most were stained or seriously outdated (read: a wee bit ugly). Remarkably, this sofa folds down into a bed which means there's no need to buy a blow-up mattress for when guests stay over. There is a wide range of affordable and stylish sofas available on Amazon & eBay which I've linked below. 
 Sofas under £300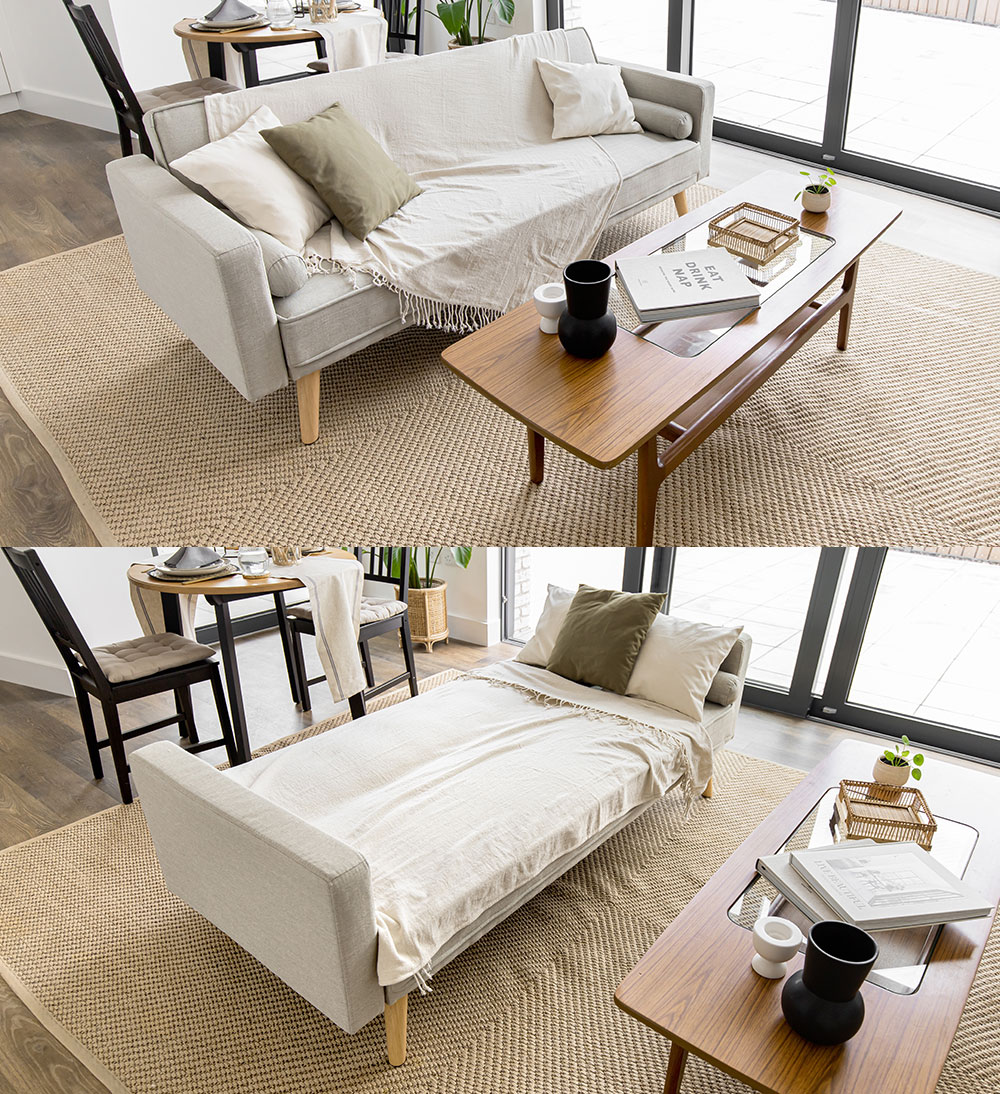 Another way to score affordable new furniture is to shop the sales, duh! One of my favourite interior brands, La Redoute regularly have huge 40-60% off sales, so make sure you subscribe to their newsletter so you don't miss out on big savings. H&M notably have a free-to-join members club with a rewards system where you'll get sent £3 vouchers, which can definitely add up to a decent discount.
Want more ways to save on new home decor? If you're an avid online shopper like me, I highly recommend downloading the free Karma extension for Google Chrome. Once installed, save any item from over 9000 retailers to Karma and you'll be notified as soon as it goes on sale. You can also use the browser extensions Honey which will automatically find discount codes for you at the checkout.
 DIY Artwork For Less 
Have you ever looked at an abstract artwork and thought "Pfft! I could paint do that!" well trust me when I say that you definitely could and save hundreds of pounds in the process. Filling a blank wall in your home can often seem overwhelming and my go-to recommendations are usually decorative pieces like mirrors or clocks or gallery walls but they are usually quite expensive to source. If you've got time on your side, I highly recommend getting creative and making your own DIY masterpiece on a budget. I was able to recreate two artworks that would have set me back £300 to buy but only cost me £15 in materials.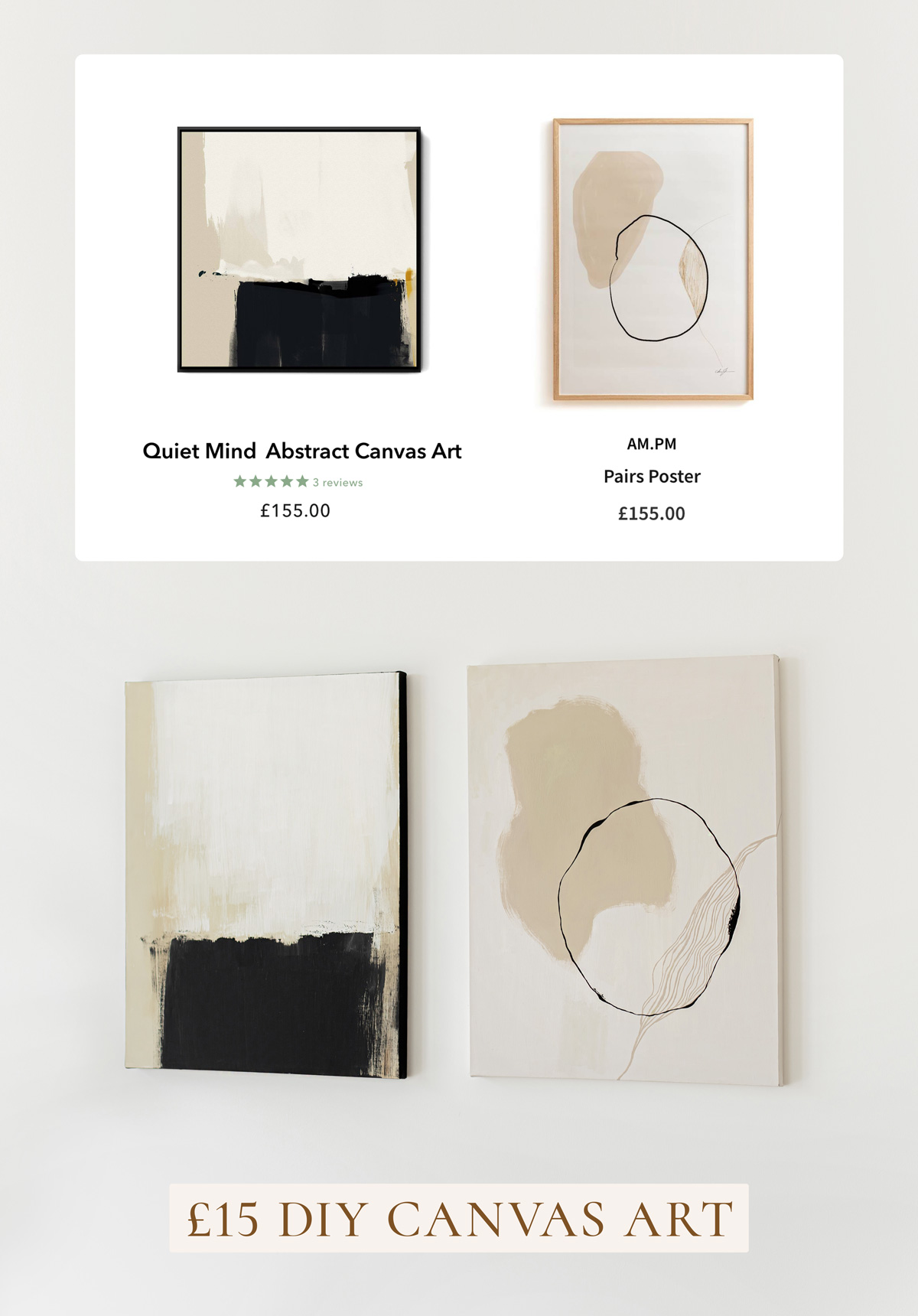 2 x A2 sized stretched canvases set me back £12 from my local art store, you can also buy canvases online from The Works or Hobbycraft. You can pick up paintbrushes for cheap from Wilko and if you visit your local B&Q store they usually have a discounted table full of paint samples for prices of 50p and £1 a pop. Before you start putting paint to canvas, go online and find some inspiration on Pinterest or from art print stores like Desenio, Junique or Poster Store. Find a style you love and is realistically achievable (abstract lines and shapes are a lot easier to paint FYI) and you'll soon have a masterpiece at a fraction of the price.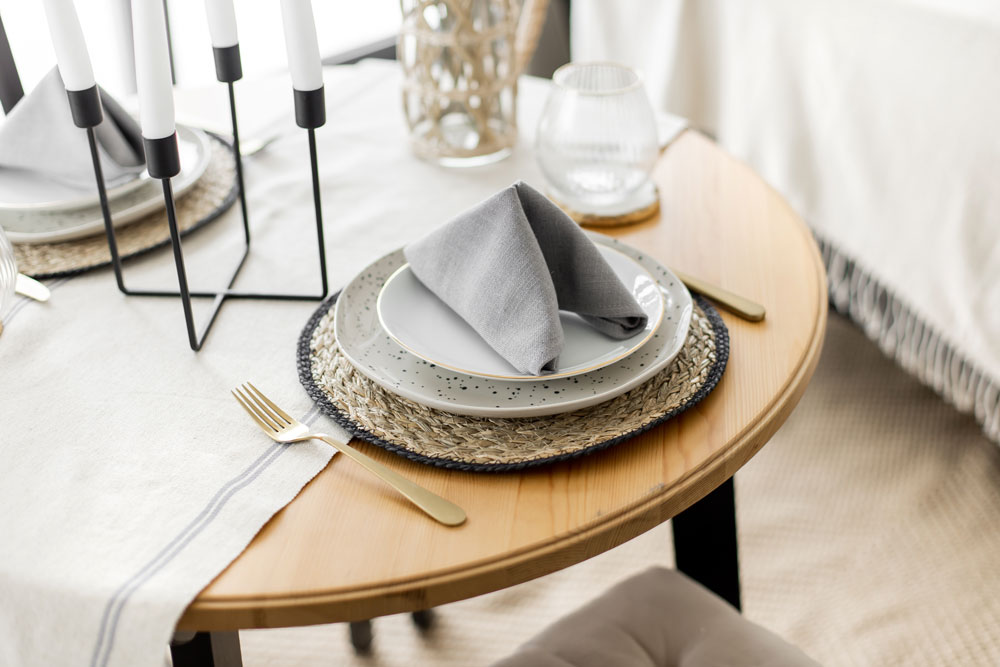 Shop the high street for affordable home decor 
It's the small details that really bring a room together. In fact, it was these woven placemats from Dunelm that helped me decide on the black & beige colour theme for this living room makeover. My favourite places to find affordable decor on a budget are H&M, Primark, Dunelm, George at ASDA, Sass & Belle, M&S, TK Maxx / HomeSense, Matalan, The Range, ALDI, Oliver Bonas, Arket, Wilko, Maisons du Monde and Urban Outfitters.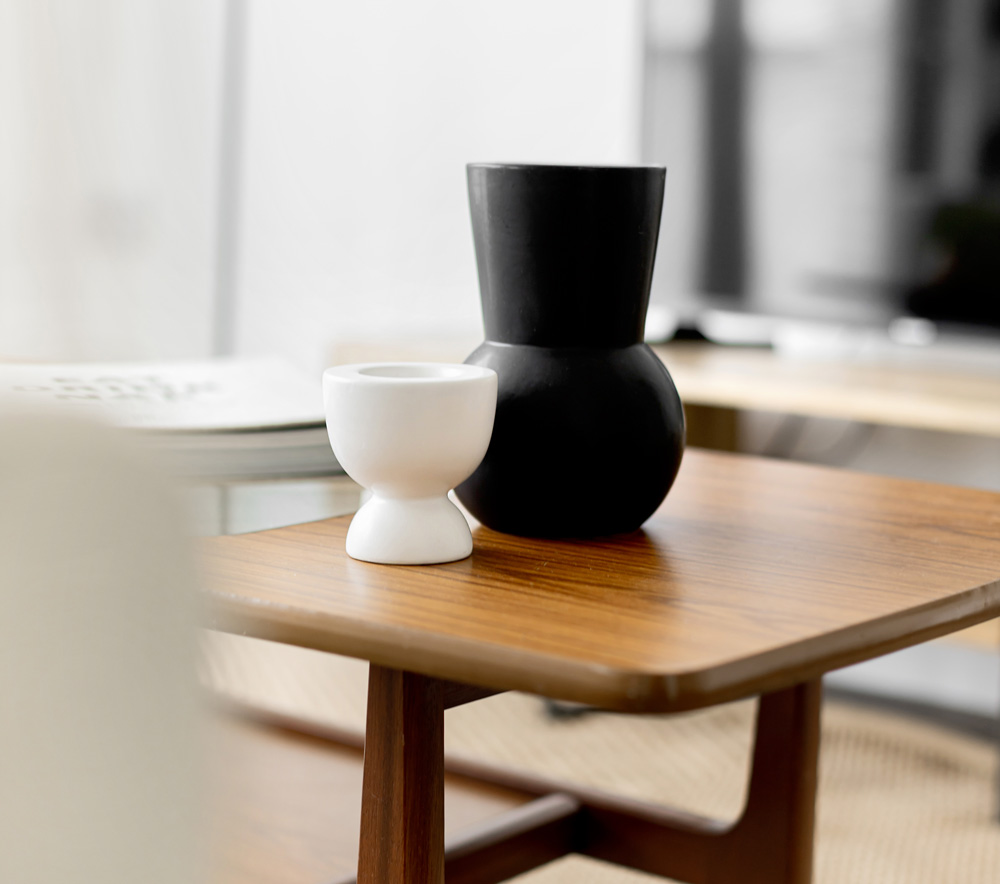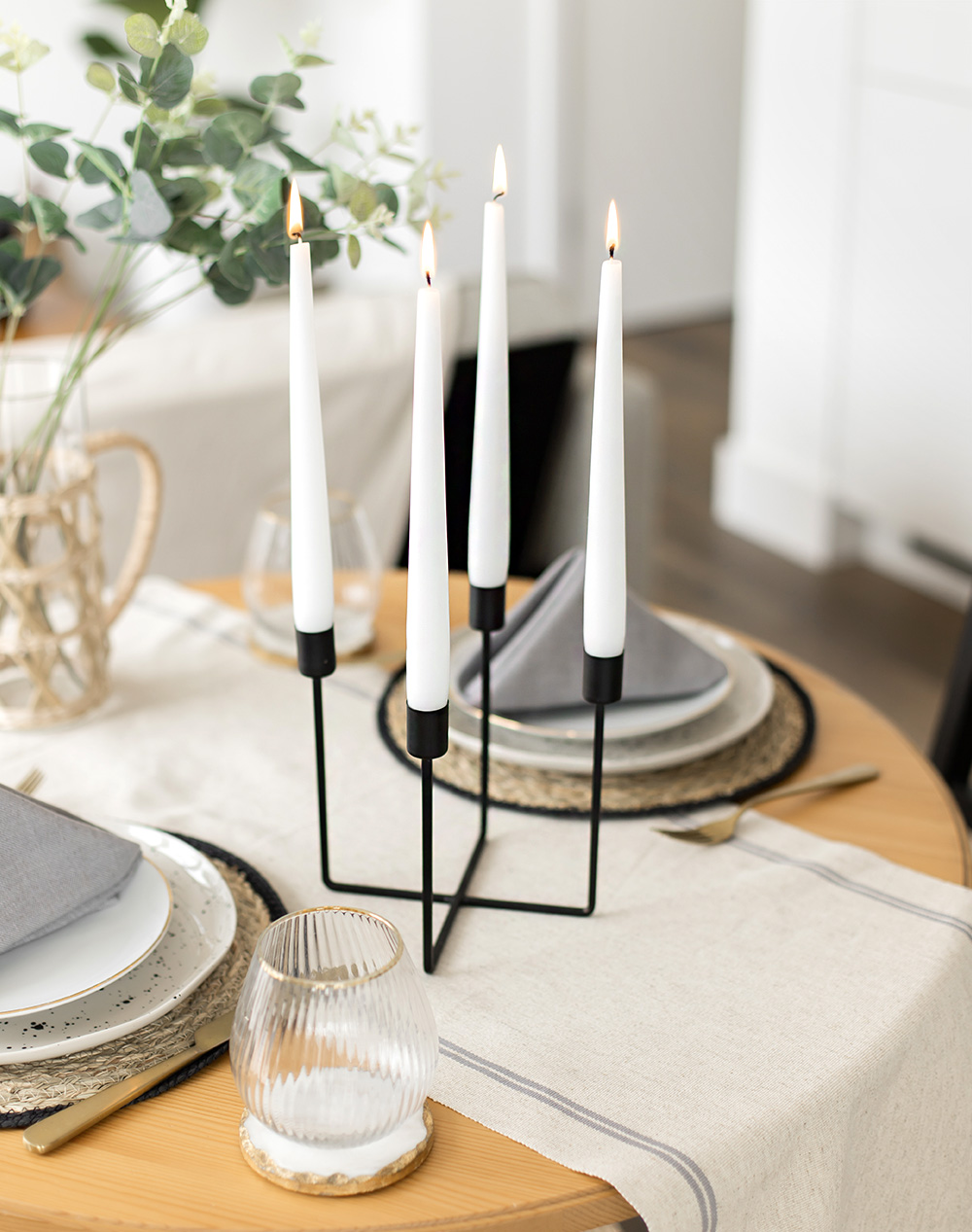 At Dunelm I was able to source on-trend decor pieces for less than a fiver, including this White Tealight Holder for £3 And a Black Candelabra for £4.80 which I've used as a centrepiece for the dining setting. At Primark, I found a huge woven storage basket for £8 (great for storing throws & pillows or for keeping children's toys out of sight) and a rattan glass jug for another £8 which I've used as a flower vase. From H&M you can always find affordable textiles like these beige £2.99 seat cushions which give a contrasting look to the black dining chairs and the olive green £2.99 cushion covers which add a pop of colour to the sofa. Below is a complete cost breakdown of everything I bought for this £500 room makeover.

£500 cost breakdown
Dunelm White Tealight Holder — £3 [LINK]
Dunelm Black Candelabra — £4.80 [LINK]
Dunelm Placemats — 2 for £6 [LINK]
H&M 2 x Twill seat cushions — 2 for £7.98 [LINK]
Primark Woven Storage Basket — £8 
Primark Jute Glass Jug — £8 
H&M Cotton canvas cushion cover — 3 for £8.97 [LINK]
Dunelm Black Vase — £10 [LINK]
Dunelm Table Runner — £12 [LINK]
DIY Canvas Art — £15 for 2 canvases & paints 
H&M Fringed Blanket — £17.99 [LINK]
Habitat Morlie Floor Lamp — £20 [LINK]
White Ladder Bookcase — £29.95 [LINK]
G-Plan Teak Coffee Table — £30 via FB Marketplace (sells for £200-£300) 
IKEA HELLESTED 2.5 x 3.5m rug — £50 via FB Marketplace (originally £300)
Swoon Mabley TV Unit — £50 via FB Marketplace (Originally £329) 
IKEA Dining Set — £40 via FB Marketplace (originally £129) 
Modern 3 Seater Sofa Bed — £175.99 [LINK]
   TOTAL COST = £497.68  
 Score some freebies 
Did you know there are entire websites dedicated to people giving away furniture and home goods for free? Sounds like heaven tbh! Sites like Freecycle.org, ilovefreegle.org and trashnothing.com are amazing communities filled with people who are happy to give away perfectly good items. It's also worth  joining your local Facebook community group, for example I am a member of Merton Buy Sell & Swap group and you wouldn't believe the amount of great stuff I see people listing there for free. Also, there is no shame in asking around and putting the word out to family members and your wider online community that you're moving into your first home and ask if they have any spare pieces of furniture. Ask and you shall receive and always make sure to give back in the future when you're in a position to do so.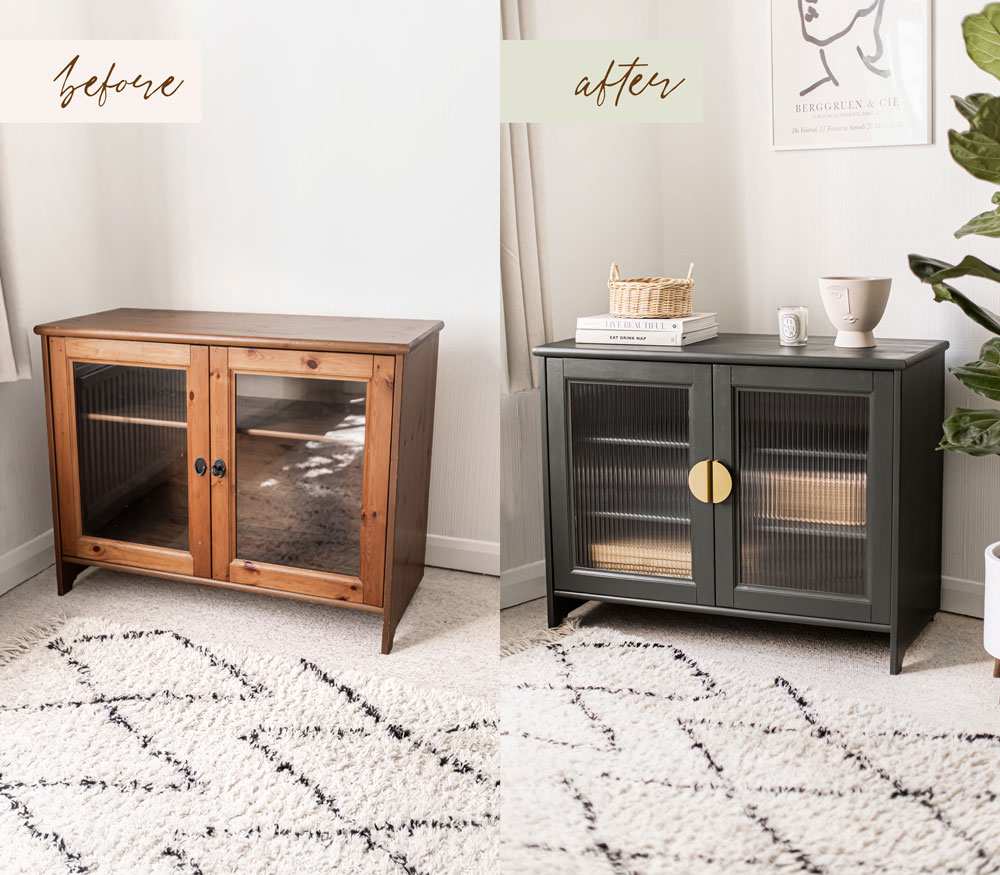 Upcycle & Repurpose 
You'll be amazed at what a fresh coat of paint can do to a tired piece of furniture. Recently I upcycled a cabinet I bought for £15 from Facebook Marketplace and transformed it into a stylish modern sideboard or tv unit by giving it a thorough sand, prime & paint. Sometimes even just switching out the handles for new ones will bring a piece into the 21st-century. I usually buy affordable modern handles from Amazon, eBay and Etsy. You don't need professional experience in order to upcycle, just a good attitude and an imagination. If I can do it, so can you – I love encouraging women to DIY and have shared a step-by-step tutorial on how I transformed this cabinet which you can view here. Looking for a stylish storage solution? Read my Easy DIY Shelf Tutorial and make a stunning piece of furniture that'll cost you £35 in materials.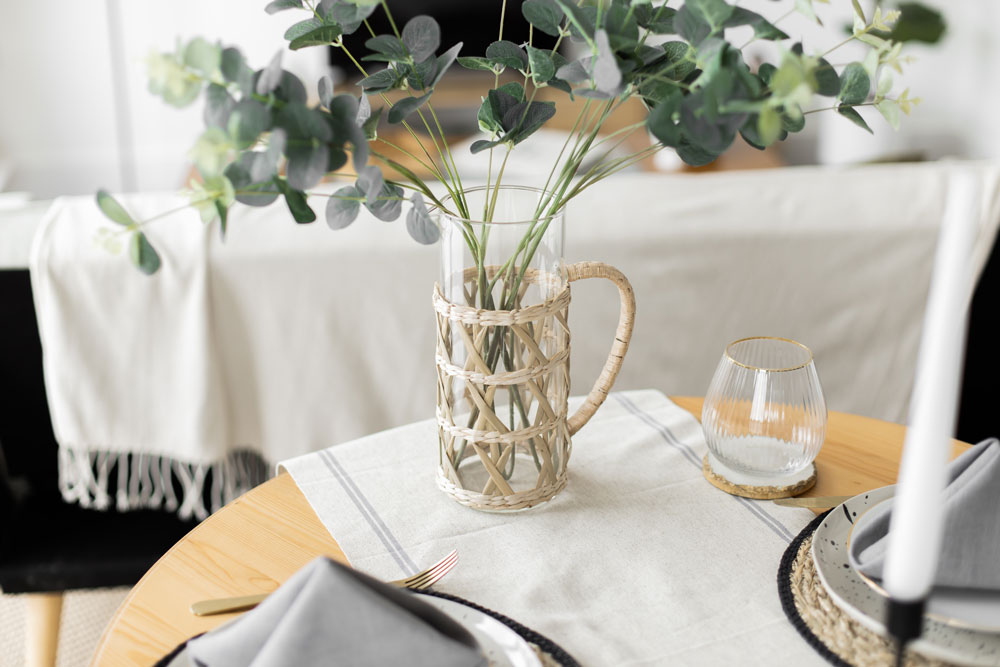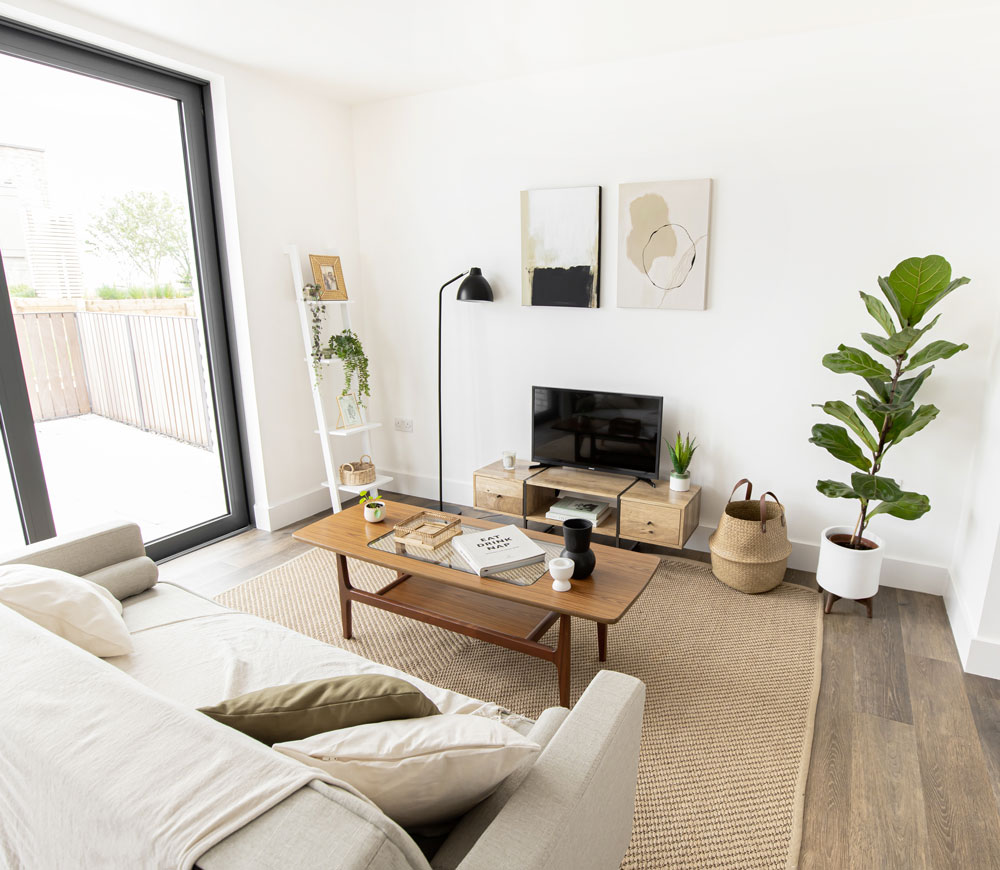 Giveaway!
Win this £500 living room
*Giveaway is now closed, winner will be contacted via email* I am thrilled to give one lucky winner the entire contents of this living room makeover, including all the furniture & decor pieces I sourced. This is the perfect opportunity for someone who's just moved into their first home and is looking to furnish their place or even if you're just looking to update your existing home. If that sounds like you or someone you know, all you need to do is leave a comment on this post to enter. Scroll down to the very bottom of this page to leave a comment.
*Winner will be picked at random on and winner will be picked on the 15th of October and complimentaty delivery will be arranged to a London address so you don't have to lift a finger.
xx Kelsey
Related:
Enjoyed this article? Find more interior styling tips here.

Want to save this post? Pin it for later below! Follow me on Pinterest.